Introduction:
I tried to get to grips with Blender a few years ago but gave up for lots of reasons. One was that the interface was so complex for a beginner to get to grips with and the other that life was so very busy that I didn't have enough time to devote to learning how to use it.

In case you aren't aware, Blender is the free and open source 3D creation suite. It supports the entirety of the 3D pipeline—modeling, rigging, animation, simulation, rendering, compositing and motion tracking, video editing and 2D animation pipeline. You can download it at https://www.blender.org/ It's totally free and the latest version is 2.81a.
Blender has developed greatly in the past couple of years and is used not only by enthusiasts but by professional creatives around the world. It's even used in Hollywood! Blender is cross-platform and runs equally well on Linux, Windows, and Macintosh computers. Check out some great examples of what has been created with Blender at https://blenderartists.org/ as well find plenty of links to free tutorials and resources provided by the community of Blender artists around the world.
You should also check out the official tutorials and documentation at https://cloud.blender.org/p/blender-fundamentals/ and https://docs.blender.org/manual/en/dev/ respectively. Note that Blender Cloud also has tutorials that are not free but are available via a Blender Cloud subscription, currently €9.90 pcm ($11.50) or €109 pa ($119) or €28.50 for 3 months ($32). A Cloud Blender subscription helps support the development of Blender as well as providing access to not only tutorials but also to a textures and HDRI library, as well providing storage space for your Blender projects and much more!
If you want to learn for free then there is always YouTube! I recommend the following creators:
Blender Guru:
Andrew Price lives in Australia, has over 1.1m subscribers to his channel and regularly posts great tutorials. I personally find him easy to follow and very clear with his tips and instructions. His videos are a great place start, and he has plenty of tips that can save you hours not only when it comes to learning to get the most out of Blender but also when it comes to rendering (a very time-consuming activity).
Blender (Official Channel):
The official YouTube channel for Blender, the Free and Open Source 3D Creation Suite. It has 527k subscribers and posts a new video roughly each week. Not all the videos on their channels are tutorials. Some are news items and conferences etc, so not as useful as Blender Guru in my view, but nevertheless you will find something of use there.
Grant Abbitt
Grant Abbitt is another of my recommended Blender artists who as some really good tutorials for the absolute beginner. I recommend you check out his video
blender 2.8 | Complete Beginners Guide | Make a Sheep (direct link:https://www.youtube.com/watch?v=wNQYhbvTJi8&t=14s ) if you are a complete beginner. In fact i followed it to create my Low Poly Sheep below:
I rendered it using AMD ProRender plugin. However, I recommend that most users use either Blender's Cycles or EEVEE render engines. More about ProRender below.
These are just three YouTube channels I would check out. To find others just type Blender into the search box on YouTube and you will find there are literally hundreds (if not thousands) of videos on Blender! Why not dip into a few and see if you can find someone whose style you like and subscribe to their channel?
AMD Radeon ProRender:
Here what AMD say about ProRender:
AMD Radeon™ ProRender is a powerful physically-based rendering engine that enables creative professionals to produce stunningly photorealistic images.
Built on AMD's high-performance Radeon™ Rays technology, Radeon™ ProRender's complete, scalable ray tracing engine uses open industry standards to harness GPU and CPU performance for swift, impressive results.
It's available for various 3D Graphic software platforms (Autodesk® 3ds Max®, SideFX® Houdini™, Autodesk® Maya®, PTC® Creo®, Unreal® Engine and Blender®) and on Windows, Mac OS X and Linux operating systems. Note: Not all the above mentioned software is available across all operating systems of course.
Now, here is a big caveat: The plugin is somewhat buggy and prone to crashing. For some users it seems to crash Blender every single time they run it - not good. Personally, I had this issue and it took me a while to get it setup so that it is more stable. Here are some tips that might work for you if you have similar issues:
1. Be sure use latest versions of both Blender and the plugin.
2. Don't run other programs at same time.
3. Be sure to only use the GPU render option (not both CPU and GPU - see screenshot below).
4. Do not interrupt the rendering process as I find this tends to crash Blender every time.
5. Use only materials native to Blender or that come in the Materials pack available from the same page as the plugin.
So far, following these tips has resulted in far fewer crashes of Blender when using the plugin. Maybe it's because I use a Mac that I am having issues but in the support forum I have seen posts form those using it in Windows and Linux having the same issue so I am guessing it's more to do with the fact that it's new and there are still lots of bugs to sort out.
The plugin is fantastic when you consider that it's free and AMD are committed to developing it and ironing out the bugs. Definitely one to watch and if you have the time and happy to play around with settings etc then check it out. For the beginner or those with hardware that is somewhat non-professional, stick with Blender's Cycles and EEVEE for now.
So, I will finish with some images of work created in Blender together with links to the artists. Hopefully this will inspire you to get into Blender!
Train by Vasilii Ziadik
Blender 117 by Mitch Aseltine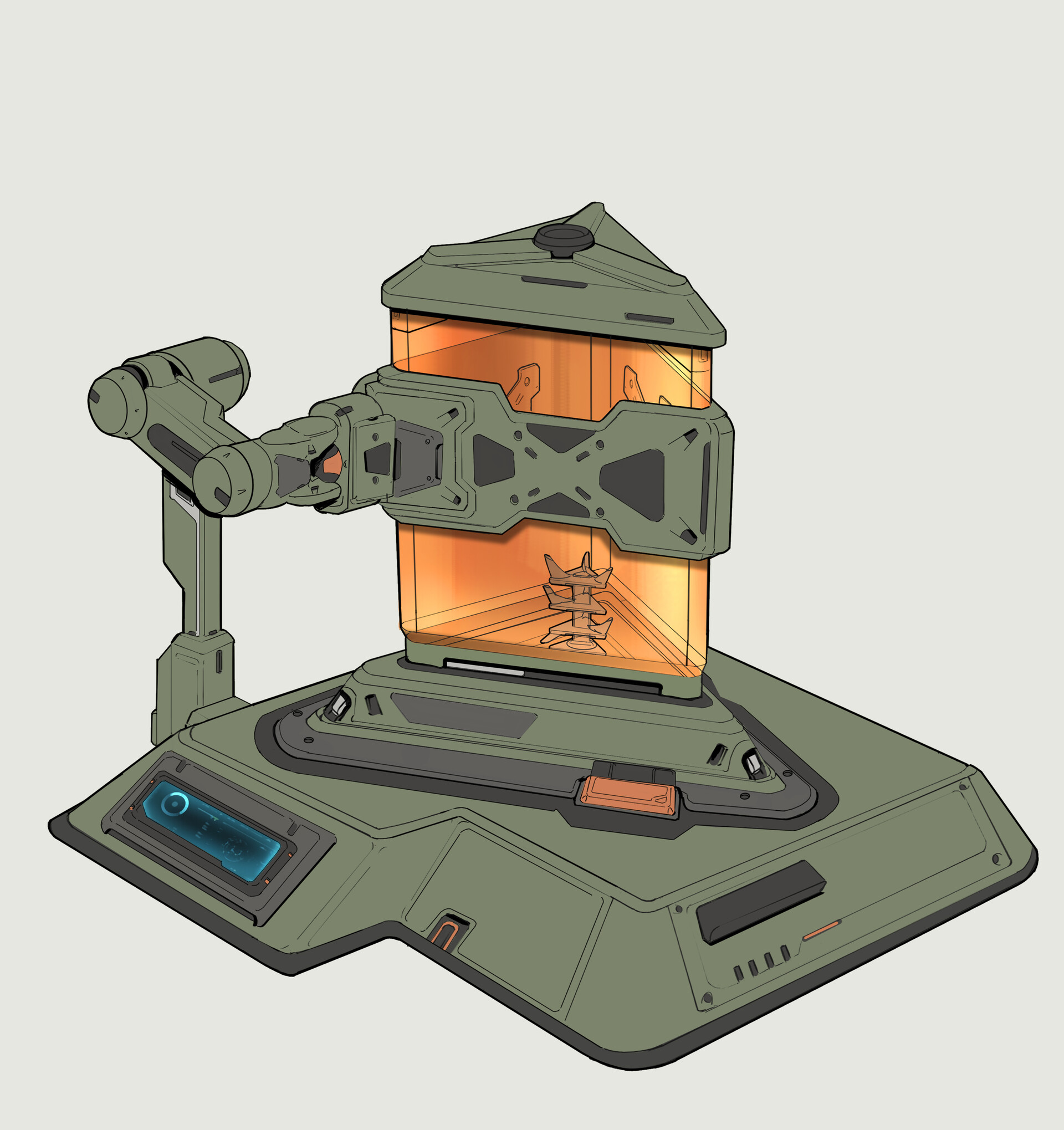 Tyler Durden/Brad Pitt 3D Model by George Siskas